Florida DUI Attorneys
1550 S Highland Ave suite C
Clearwater, FL 33756
Phone: (813) 286-4300
Billy I. Jackson, Attorney
333 North Orange Avenue
Orlando, FL 32801
Phone: (407) 849-2234
1209 Southeast Third Avenue
Fort Lauderdale, FL 33316
Phone: (954) 462-4600
8495 S Federal Hwy
Port St. Lucie, FL 34952
Phone: (772) 466-0707
4230 S Macdill Ave, Suite I
Tampa, FL 33611
Phone: (813) 832-5040

Florida DUI Attorneys by City
Below you can find more Florida-based attorneys and law firms that practice in specific cities in Florida:
Finding a Reputable Attorney in Florida
One of the first things to be aware of is the Florida State Bar attorney search. If you've found a few lawyers that you're thinking about hiring, it's a good idea to run their name through this search. This directory search will not only tell you if they are eligible to practice law in the state of Florida, but it will also tell you their 10 year discipline record with the Florida State Bar.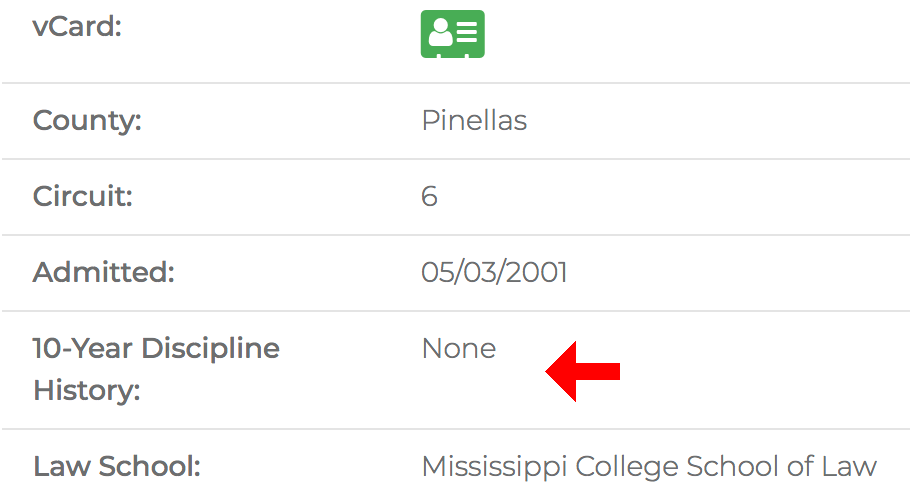 Above is a screenshot taken from a Florida State Bar attorney search. Notice the red arrow pointing to the disciple record.
Florida State Bar Referral Service
Another thing you should be aware of is the Florida State Bar Referral Service. The state bar website provides a toll-free phone number you can call to help you find a lawyer. When you call, you'll be connected with a Florida State Bar telephone representative that will record your issue in strict confidence. They will give you the name and contact information of an attorney (or attorneys) in your geographical region.
Now, the referral service doesn't mention anything about finding you the best lawyer, but you can do some research on your own as to which one might be the best suited for your particular situation. You can use the tip we provided in the last section to help you with your decision.
Now, not all areas in Florida are covered by this Florida state bar service. Be sure to check this map to see if you reside in the area where these services are provided. You may find there is a local bar association that provide services that are just as helpful or even better.
Special Services For The Elderly & Those In Need of Lower Fees
The Florida State Bar also provides a "panel" for those who may need extra financial help and the elderly. Obviously, you'll need to satisfy a particular criteria in order to use these panels, but it never hurts to inquire. This service provide two valuable options:
A free 30 minute consultation
Reduced attorney fees if you decide to go with one of the referred attorneys
You can call (800) 342-8011 to see if you qualify.