San Bernardino Police Department
The San Bernardino Police Department is located on the north west corner of 7th street and D street. The police department has red archways and grey/off-white exterior. There is a water fountain between the front steps of the building. Several tall palm trees are planted around the perimeter of the building.
San Bernardino Police Department Locations & Facilities
710 N D St
San Bernardino, CA 92401
909-384-7272
Directions
From 215 North
Exit the 215 North at 5th Street (Exit 44A) and turn right on 5th Street. Turn left at North D Street.
From 215 South
Exit Baseline Street (Exit 45). Turn left on West Baseline Street. Turn right on North D Street.
From 10 East
Take 10 Freeway East to 215 North. Exit the 215 North at 5th Street (Exit 44A) and turn right on 5th Street. Turn left at North D Street.
Parking
There is no parking for non-police department employees along the street directly in front of the station. However, there is generally plenty of parking along D street. San Bernardino can get very hot during the summer so don't leave anything in your car that can get harmed by intense heat.
History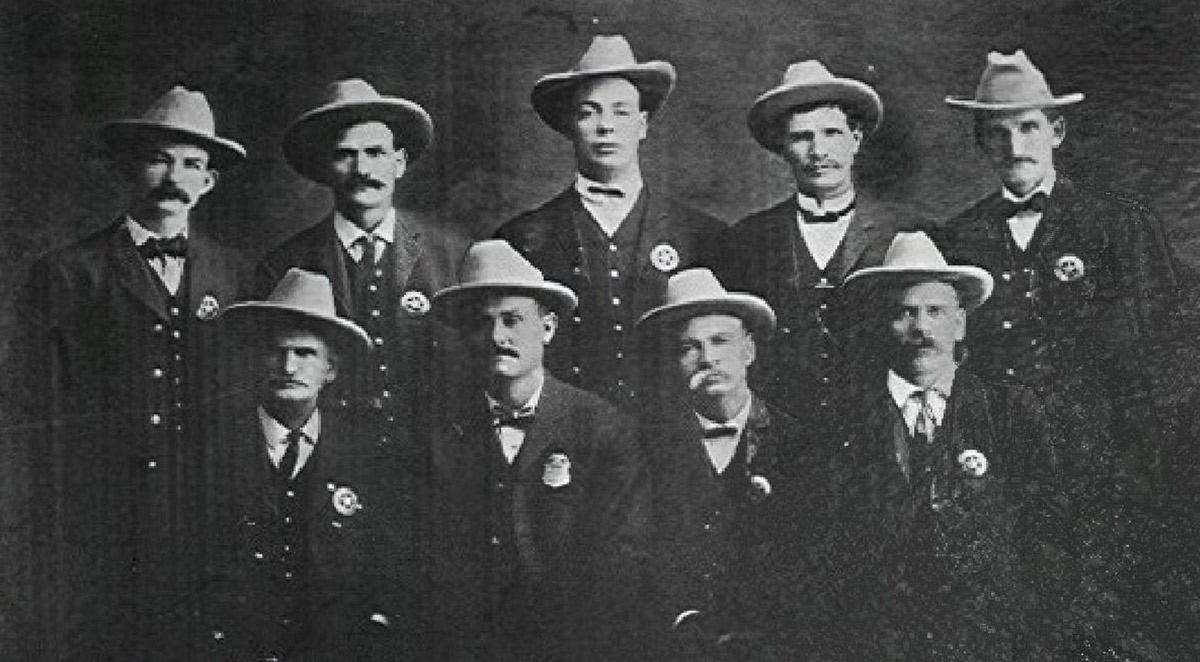 The First Nine Police Officers of San Bernardino, California
Top row: Robert O'Rourke, John Bell Kettring, Benjamin Emerson, John A. Henderson, Robert Nish
Bottom row: William H. Hurley, Chief W.A. Shay, Richard Curtis, Edward Poppett
San Bernardino is one of the oldest cities and longest inhabited regions in California. Like many cities in the Old West, before the establishment of an official police department, San Bernardino had a town marshal. These marshals were:
Bud Rollins
Stewart Wall
George Mattheson
Frank Kerfoot
Charles Landers
Mark Thomas
John C. Ralphs
L. Van Dorm
Joseph Bright
Hughes Thomas
David Wixom
William Reeves
John Henderson
Ben Souther
Walter A. Shay
In 1905 the city chartered the police department and hire its first Chief of Police. SBPD started with nine police officers and as of today has 250 full time officers employed and an additional 150 people on staff.
Walter A Shay
Walter A Shay was born in San Bernardino in 1866 and lived in the area his entire life. He began a career as a farmer, but soon turned to law enforcement. Not only was he the first marshal and police chief of San Bernardino, he also became the Sheriff of San Bernardino County later on in his life.
Motto
The motto for SBPD is:
"Setting the Standard of Excellence"
San Bernardino PD Online Services
Jobs
To look for current job openings, you can visit joinsbpd.org. SBPD is looking for people who want a rewarding and challenging career in law enforcement. As of 2021, Law Enforcement Trainees earn $32.09 an hour (as a starting wage). Employment comes with benefits. After officers graduate from training, typical salaries range from $83,448.00 – $111,444.00 a year.
Social Media & Website
Website: sbcity.org/cityhall/police_department
Facebook page: facebook.com/SanBernardinoPD
Twitter: twitter.com/sanbernardinopd
Instagram: instagram.com/sanbernardino_pd
Youtube: youtube.com/channel
SBPD promises that if you're looking for an action-packed career in law enforcement, SBPD is the department to join. They definitely do not have a sleepy, small-town police careers here. It's a great department for those looking to grow, gain a diversified set of police experience and more. The SBPD's SWAT team is one of the most notable and impressive in the entire United States.
The SBPD police chief posted a video in 2021 highlighting growing crime and failures of the criminal justice system. He pointed out that criminals are be released quickly and a noticeable trend of increased crime rates have followed. You can find updates of similar messaging by searching for the hashtag #systemfail on social media.