Attorney & Law Firm Marketing 101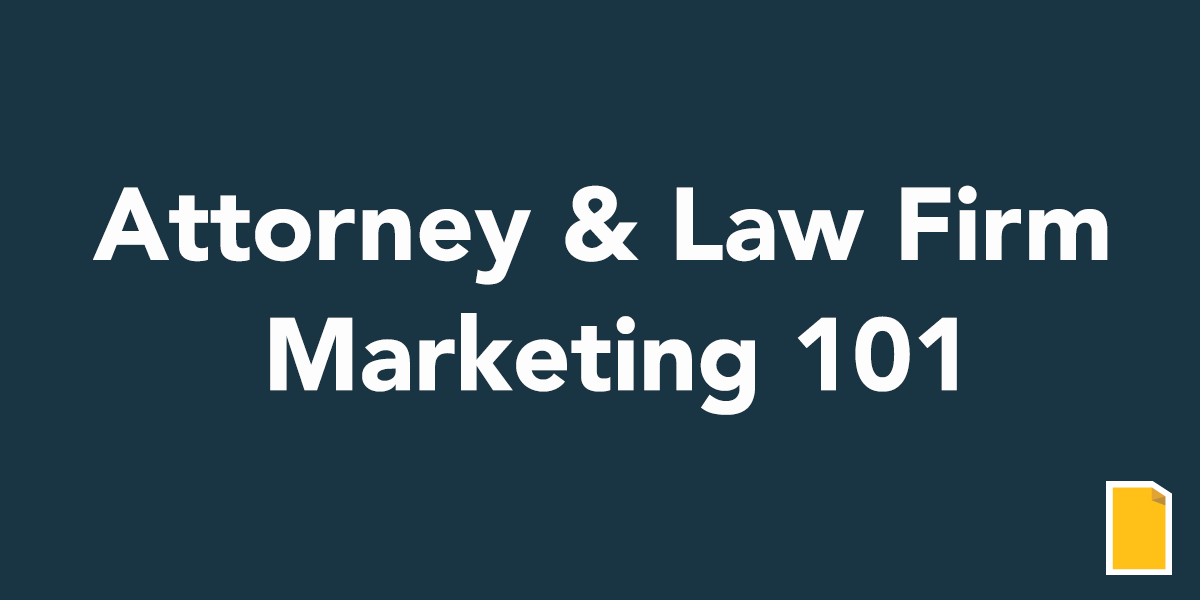 UPDATE: Please leave your phone number if you're going to request an introduction to the internet marketing agency we recommend in this article (as people don't seem to be responsive to email these days). Visit our contact form here to request an introduction.
Marketing your law firm or practice isn't always the easiest thing to do. I know! I chat with dozens of attorneys all over the United States every year because of the networking association I belong to. I think I have some great tips and advice to help any attorney or law firm run a successful marketing campaign. The list below is in alphabetical order – they are not ranked in anyway. I just try to thoroughly go over each marketing channel/activity and tell you whether or not you should spend your time on it.
WARNING: Some U.S. states and their respective bars have rules about attorney marketing and advertising. Be sure to review those rules and/or laws. This post isn't focused on traditional advertising. We are huge advocates of educational content, networking with other attorneys and simply letting people know what it is that you do. If you're reading this and you are a legal professional in another country, please review your local rules and laws.
1. Blogging
If you like to write, blogging can provide an amazing return on investment. Most attorneys just don't have the time for blogging and since they are very particular about their prose – it can act as a roadblock to consistent publishing.
The key to blogging for a law firm or practice is to focus on topics that are going to provide value. I suggest the following topics:
Frequently Asked Questions
Your clients ask you tons of questions. WRITE THEM DOWN. Look at your old emails. Think about what they ask. Posts that address these questions provide great content that will attract people searching for answers to these questions using Google (or other search engines). This content also provides great social media content as well. I have a good referral that specializes in law firm SEO and blogging. Feel free to contact me here and I'll make an introduction.
The beauty of this type of blog content is it educates other attorneys that you network with. It keeps you top of mind when someone comes to them with a problem that you solve.
Upcoming Seminars, Webinars, State Bar Announcements
Covering these events are a good way to keep your fellow law school buddies and other lawyers in your network informed about useful information that comes up. This is a branding play to keep you top of mind. REMEMBER: post your blog content to your social media accounts and dress up your social media update so that it's engaging (don't just drop a link and hit update – put some effort into the delivery).
Any Interesting Changes To Your Profession
Other attorneys like to know about changes in your specific field of expertise. Whether it's a change in how your state handles DUIs, to specific court procedures that have changed. Informing your attorney network always helps.
Celebrity Misconduct
If a celebrity does pop into the news for a criminal issue, you can always cover the story from your perspective. It's easy social media clickbait and it can help boost the power of your own website.
There's actually plenty of topics to cover, so if you're a prolific writer, I highly suggest you crank out a post every morning. In a couple years, you'll thank me ;).
P.S. High word count helps, and notice how I'm blogging conversationally.
2. BNI
BNI stands for "Business Network International". It's a global organization where any professionals can join a chapter that consists of other professional from other professions. The key value of BNI is that only ONE professional from each category is allowed to join a chapter. That means if you're the criminal defense attorney in the group, no other criminal defense attorney can join.
The idea behind BNI is that all the professionals in the group develop relationships with each other (to the point of becoming friends), understand each other's businesses and help source referrals for each other.
Does it work?
It does. Now, criminal defense attorneys don't regularly get referrals from the non-attorneys in the group. However, when a criminal defense attorney networks with other attorneys in BNI, they tend to get more referrals. The reason why is because the general population asks any attorney they know – regardless of expertise – for help or for questions when they have legal issues. For instance, the divorce attorney gets asked about DUI issues or domestic violence issues. Therefore, they need a good referral partner to take those cases.
3. Chamber of Commerce
Joining a chamber of commerce is somewhat like joining a BNI group. The big difference is there can be competition. However, the main drawback to joining a chamber is that the same people don't routinely come to events. The reason why networking organizations work better is that you constantly see the same people every week so you're always top of mind (sorry to keep using that phraseology but that's really the key to attorney marketing).
I have heard good things about specific chambers. Some cities run more nurturing chambers than others. You can always check them out for yourself, but I definitely rank them lower on my list. The bottom line is it requires a ton of effort and the return is really an unknown.
4. Facebook & Instagram Ads
There's a huge difference between Facebook/Instagram and blogging/SEO – and I think a lot of people still don't get this. Facebook and Instagram are basically interruption advertising whereas blogging and SEO is really based on search intent. In one case people are scrolling through their feed and your post pops up regardless of whether or not they want to look at it, and in the other case people are actively searching for something you solve. So, unless you want to be a household name for some reason, I don't really see a good reason to spend your money on Facebook and Instagram ads. I could be wrong, but I think there are better avenues to try out.
5. Facebook Page Marketing
It's important for your firm to have a Facebook page. It's free. It helps you conquer a little more real estate in the search engines when someone googles your firm. The written content you put on your Facebook page can also get indexed by the search engines. My best advice is to spend a day to knock it out (fill out everything and be long-winded in your written descriptions). Then sync your Instagram and Facebook accounts so that when you upload to one, it posts to the other. You can try tools like buffer to take care of this functionality or you might be able to do it in-app without using 3rd party tools. I like buffer because you can sync LinkedIn too.
6. Facebook Profile Marketing
Facebook profiles (not pages) can be a secret weapon. It really depends on how active you are on Facebook, who you have been friending, and how much you like it. If you're not a Facebook person then it probably won't do anything for you. However, if you treat your Facebook profile like your LinkedIn profile – it can work wonders.
The idea is you keep it professional. Feel free to friend anyone and everyone. Even people in your professional network. Old law school buddies. But don't post political content, dirty jokes, anything that won't have mass appeal. You don't want to be divisive. Instead, focus on beautiful sunsets, funny stories that everyone will get a laugh at, what you're up to lately (professionally), newsworthy cases, your own blog content. Don't post multiple times a day. Maybes just a few times a week. Finally, don't engage in political comments or anything that can turn into a big bag of hate or that's a time suck. Just stay away from that side of Facebook. It's not worth it.
The reason why Facebook works so well is that:
Almost everyone is on it
Some of those people live on it all day
Anyone can message you from it
You can keep people very aware of you what you do, how you help, and how to get a hold of you
7. Google Ads
Nothing gets you in the race faster than Google Ads.
But, as you may know, it can cost a pretty penny. Plenty of people have blown thousands of dollars a month and never got a return out of it. However, some attorneys use Google Ads as their sole source of client acquisition. It really comes down to who is managing your campaign, how much you're willing to spend and how competitive your city is.
If you need a referral to a great Google Ads outfit, let me know! Contact me here.
8. Instagram Profile Marketing
It can't hurt to have an Instagram presence. Upload photos of you at award ceremonies, events, sports games. Take office team snapshots. Portray a friendly image that engages in community functions. Show off organizations you support, help out, donate to etc. Instagram is more important for larger, more established firms. For the solo-practitioner you probably won't find it that helpful.
9. LeTip
I actually like LeTip more than BNI because there's less "homework" and noise in general. It's the same idea: one profession per group. However, since it's a little less structured, people tend to not meet as much outside of LeTip. It can lessen the effectiveness of the experience. Between BNI and LeTip, you really have to visit a few chapters to see which one seems like the best fit for you. Obviously, look for chapters that have other attorneys in them.
10. LinkedIn
LinkedIn is really the place where attorneys should spend their "social media time". It's meant to be only professional. It's meant to network with other professionals. The main drawback is the rest of the world spends most of their time on Facebook and Instagram. That means people are less likely to see your posts and updates. However, that's slowly changing. LinkedIn is doing a great job at keeping people engaged and coming back to their platform. Again, connect with other attorneys, even ask to do a phone call to get to know them better (and how you can help them). Be sure to post your blog content on LinkedIn – I'd say even once a day is fine on LinkedIn.
11. SEO – Search Engine Optimization
SEO is an interesting activity. It's probably the most nuanced of all internet marketing activities and the hardest to unpack conceptually. The most important thing to take away from SEO is it's a component of internet marketing. It's not a silver bullet. SEO boosts other internet marketing activities and other internet marketing activities boosts SEO.
All law firms and lawyers should have their website and business data optimized for search engines. It doesn't have to be an on-going activity. It's important to have your website optimized once by a good SEO professional. The next step is really about expanding your website content. Blogging and SEO go hand in hand. Blogging boosts you SEO and your SEO boosts your blogging. Any professional SEO will explain how this works. Finally, there's an entire other sub discipline of SEO called link building. Some SEO agencies will pitch this service for you. Be careful – the wrong kind of link building can get your website banned by Google.
I have a good referral that specializes in law firm SEO. Feel free to contact me here and I'll make an introduction.
12. Twitter
There isn't much for attorneys on Twitter – unless you want to jump into conversations with other attorneys. This might be one of the rare instances where you do want to get into politics. You may find "your tribe" of like-minded attorneys in your geographical region. It could be a way to get referrals. The only reason why I recommend this is Twitter political discussions can easily suck you in and be your thing (meaning you naturally get into Twitter and Twitter conversations – it becomes easy for you). So, if it is your thing, you can use it easily develop relationships with other lawyers.
13. YouTube Ads
YouTube Ads work really well in most cases. I suppose if you can target people who are watching criminal defense related content you can put a really targeted video ad right in their face (they're probably searching for answers or information related to their problem on YouTube). I haven't experimented with it enough yet. But from what I can tell, YouTube definitely "knows" what my interests are and has seemed to figure out my occupation. The targeting is eerily good.
14. YouTube Marketing
I think creating videos is a great idea for any law firm or practice. It is time consuming, but most people prefer to get their answers from videos. You can always turn your blog posts into videos and vice versa. If you do both blog posts (or any written website content) with a corresponding video – be sure to embed the video into your blog posts or web pages. Any lawyer or firm that can get into that process is going to do pretty well in my opinion.
Conclusion
The only problem with my list here is there's too much to do! And that's what this really comes down to. Finding the few channels and activities that work for you and your firm and doubling down on them. You don't want marketing to consume your entire day.